Ms. Jeyalakshmi Venkatanarayanan,Founder, Universe Power Systems received the coveted & prestigious Indian Affairs Power Woman of the year 2019 at the 10th Annual India Leadership Conclave 2019.
More than 300 Business Tycoons, Social Entrepreneurs, Industry Leaders, Educationists, Policy Makers were in full attendance to witness the much awaited 10th Annual India Leadership Conclave & Indian Affairs Business Leadership Awards 2019, also known as ILC Power Brand Awards. The historic & iconic annual conclave currently in its 10th annual edition debated on the theme "Opportunities – Can India Seize India $5 trillion economy by 2025". Leading voices & noted leaders of the country gathered at the commercial capital of india in mumbai on friday,23rd August 2019. The conclave highlighted the burning topics of india with a specific emphasis on Modi 2.0.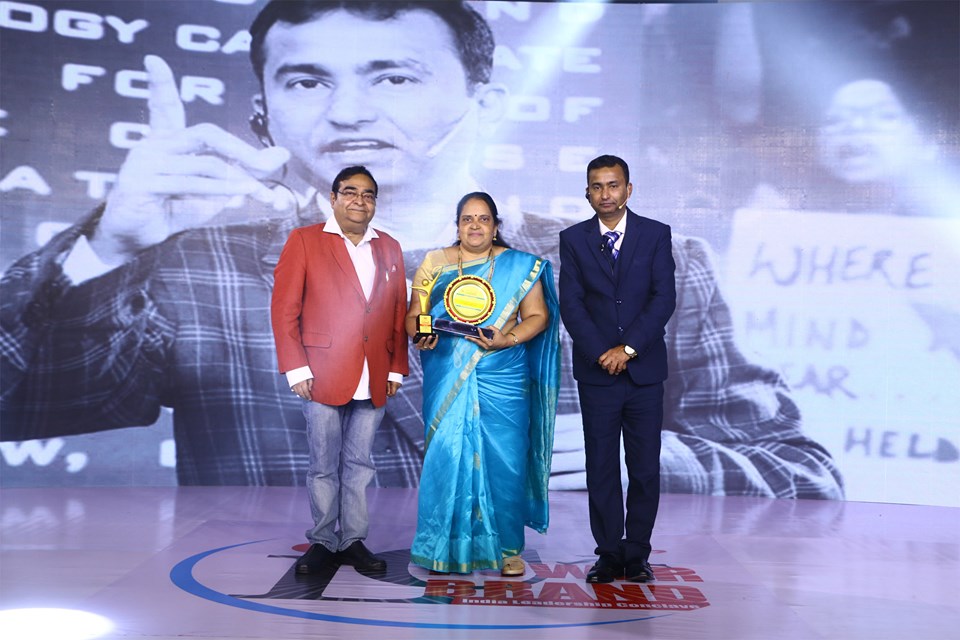 Ms. Jeyalakshmi Venkatanarayanan,Founder, Universe Power Systems received the coveted & prestigious Indian Affairs Power Woman of the year 2019 at the 10th Annual India Leadership Conclave 2019.
Prominent Awardees included Dr. P. Shyama Raju. Chairman, REVA Group of Institutions, Mr. Ashok Nair,Managing Director & General Manager,Abbott Healthcare Pvt. Ltd, Mr. Alok Ohrie,President & Managing Director, Dell Technologies India. The detailed winners list can be seen at https://www.outlookindia.com/newsscroll/india-leadership-conclave-2019-debates-opportunities–can-india-seize-india-usd-5-trillion-economy-by-2025/1606127
Top achievers of the country who were in nationwide polling by Network 7 Research were recognized & honored at the ILC Power Brand Awards. Speaking on the process of selection & methodology, Satya Brahma, Founder Chairman of India Leadership Conclave said "India Leadership Conclave's objective is very simple & clear. We don't follow a fixed set of rules of traditional theories of selecting a nominee in the final six list either based on seniority, age or celebrity status. We go by our research, experts advice& bring to light those talent & innovators who never got noticed in mainstream media or recognized. When they see their names in the big six final list, they feel proud, for us, that is the winning moments after relentlessly following & chasing for finding the credible name!"
Conceptualized & instituted in the year by India's most respected journalist Satya Brahma, India Leadership Conclave Awards are are meant to highlight & celebrate those individuals & companies who've ascended to the top of their business against all odds. Currently celebrating its 9th successful annual editions, iconic figures such as Ratata Tata, MukeshAmbani, Naresh Goyal, Narayan Murthy, Shiv Nadar,SudhaMurthy,Priyanka Chopra, Manish Malhotra, Neeta Lulla, Late Yash Chopra, Govinda, Rani Mukerjee, Sushimita Sen, Karishma Kapoor are some of its proud recipients. Being India's most iconic leadership awards having a tremendous impact on the credibility of the Group, India Leadership Conclave jury takes every steps to ensure fair, credible & independent selection process,.The nomination categories, eligibility criteria, selection process & evaluation criteria constitute the core areas of research. Public voting constitutes its biggest parameters. Physical interviews by Network 7 Media Group Journalists on ground on each nominee are conducted followed by Jury's strong analytical verdict. The set of awards developed by the Board Members of the Network 7 Media Group is to propel the talent engine & encourage, motivate the innovative entrepreneurs. These leadership awards are aimed at empowering the leaders who think differently.This recognition voted by the people of india& subsequent by Jury Board reflect the Winner's remarkable achievement & accomplishments as a leader of substance driven by passion, initiative & commitment to deliver excellence. India Leadership Conclave Awards are special as we don't follow any traditional guidelines, defy conventions & crown winners based on innovations, merit & competence. Our decision is based on number of factors which are transparent, robust & driven by extensive research.
Shri Ashish Shelar,Hon'ble Minister of School Education, Sports & Youth Welfare, Government of Maharashtra, Padma Shri Dr. Mukesh Batra & Mr. Satya Brahma conferred awards to the shining stars of india.
Overview
Jeyalakshmi Venkatanarayanan is the Founder and Proprietor of Universe Power Systems. Driven by the passion to work in the area of power and build a brand that customers can trust, she started her company in 1997, providing Uninterruptible Power Systems (UPS) to various market segments. Jeyalakshmi is the only independent woman business partner for Vertiv (formerly known as Emerson Network Power India Pvt. Ltd., Tata Liebert Ltd.). She attained entrepreneurial success in an entirely male dominated field in less than 5 years. From no prior customer base, Universe Power Systems grew to serve more than 2000 reputed companies in various segments like IT, banking, healthcare, pharma, education and government enterprises.
A few years after she started Universe Power Systems, Jeyalakshmi sensed a need in the market for end-to-end customized power solutions. At that point, she pivoted her business model to focus on designing specific solutions for the customer's power needs instead of selling products. Accordingly, Universe Power Systems has expanded its business from products and services of UPS, inverters, batteries and stabilizers to include value-added offerings of design, consulting, project execution of "Total" power solutions. This strategic shift has enabled her to capture new and emerging segments like data centres, clean rooms, home and building automation systems, precision cooling and integrated solar power. She has also added power quality audit as a key business offering, helping customers assess their energy efficiency, safety, quality of power systems in their premises and realize necessary improvements. Universe Power System is also offering 'safe and secure' power solutions, consultation for hospitals and industries.
Universe Power Systems has the mission to provide total green power solutions to customers across various segments and back it up with quality and reliability of service support. Its business objectives are to ensure maximum uptime, clean power and a unique customer experience. I has achieved success in its mission by maintaining clear and transparent communication with customers, being receptive to their unique requirements and providing 24/7 service.Over the years, Jeyalakshmi has built a young, dynamic, disciplined and well trained network of engineers forming the backbone of her company. She has transformed her company's operational management, inculcating various processes that include business ethics, approach to customers and internal processes.
Over the past two decades, Jeyalakshmi has been a mentorto several entrepreneurs. She has also been invited to speak at several forums on entrepreneurship, management and leadership. Her interactions in these roles stimulated her to start Universe Business Solutions in 2016, to fill the void that exists in training entrepreneurs to take their business to the next level. Universe Business Solutions provides training, workshops and consultation for entrepreneurs to help them start-up and scale-up their businesses effectively. It also offers leadership and management training programs for individuals, groups and corporate organizations.Jeyalakshmi also leverages her entrepreneurial experience to train managers. She recently held a successful series of workshops on 'Smart scaling up' businesses.
In recognition of her achievements at various stages of her entrepreneurship journey over the last two decades, Jeyalakshmi has been presented with the following awards:
• 2000 – Rashtriya Rattan Award on the occasion of Indira Gandhi's birthday by the Global Economic Council for exceptional achievements in business.
• 2008 – Kannada Prabha, a popular Kannada daily, bestowed her with the title of 'Powerful Lady'. A book by the same title was released later that year.
• 2009 – Selected among 10000 women entrepreneurs across the world by Goldman Sachs, her management education at ISB was sponsored and graduated by 2010.
• 2010 – DQ week mentioned best example to manage home and office (When Lakshmi met Saraswati).
• 2011 – First generation women entrepreneur of 2011 award and got appointed as member of the Advisory Board Council of Acharya Institute of Management, Bangalore.
• 2012 – Received Mother Teresa Excellence award.
• 2013 – Featured in Workshop Magazine.
• 2015-2017 – Featured in Times of India, Udhaya TV, Thandhi TV, Sankara TV
• 2017 – SramaSadana Award
• 2017 – CEO magazine's Top 25 Influencial women in India
• 2017 – DQ week's Top 10 IT Queens of India
• 2019 – Emerging SME of Bangalore by 'The Talk'
Jeyalakshmi's educational background is in Electronics and Telecommunication Engineering. She is also a qualified teacher, trained dancer, choreographer and Carnatic singer. Her first entrepreneurial venture was the dance school 'Nruthya Kendra' that she started in 1984. According to her, founding Universe Power Systems was the best professional decision she made in her life. Though she was running a dance school successfully and it was a career path she loved, she had an urge to take up a venture where she could use her technical background. Starting Universe Power Systems helped her realize her dream in a challenging, fast-paced entrepreneurial setting.
Jeyalakshmi believes in working with discipline and integrity towards her goals. On the topic of professional and career success, Jeyalakshmi has this perspective to say, "I would attribute my success to my hard work and perseverance.To me, success is striking that particular balance between accomplishments in work and life that makes one happy. This is very personal to an individual and cannot be standardized. I believe that long term success cannot be achieved without consistent effort towards finding that balance, a disciplined work ethics and persistence in the face of failure. I would also like to add that one should not be carried away by one's achievements".
Jeyalakshmi has a special message for women entrepreneurs when she says, "For women leaders, balancing work and family remains the key challenge. I believe this can be overcome by prioritizing what is important on a day-to-day basis and managing one's time efficiently. Despite my hectic work schedule, I make sure that I spend quality time with my family, especially my two daughters. This balance surely gives me overall satisfaction".
Being an accomplished Bharathanatiyam artist / Guru and vocalist, Jeyalakshmi started the Universe Art Foundation (UAF)as a CSR of Universe group.She places lot of emphasis on serving society through UAF, promoting and supporting Indian artists.
At this stage, her future plan is to expand the reach of the Universe brand, comprising business solutions and power solutions, via franchises all over the country. The franchisees will be trained to follow the same processes and guiding principles that she has refined over the last two decades.She has plans to expand her business to provide one-on-one training and consulting services for budding entrepreneurs, especially women in non-traditional fields. She is also expanding offerings to conduct training sessions and workshops by partnering with universities and corporate organizations.